Feng Shui colors for living long and prosper.
A guide to Feng Shui colors for harmonious and prosperous living. Try out these color choices and materials for a balanced chi in your area.
'Feng Shui' is an ancient Chinese philosophy that focuses on creating a harmonious and balanced environment. Drawn from the harmony of the five elements, the use of color can greatly influence the mood and energy in a room. Here's a guide to Feng Shui colors for a prosperous living. Whether you seek wealth, happiness, or luck, Feng Shui can always help.
1. Gold for Glorious Luxury: In Feng Shui, the color gold is auspicious. It is associated with prosperity, wealth, and luck. It is believed that incorporating gold into your home or office decor can attract positive energy and enhance financial stability. Some common ways to use the color gold are golden accents, artwork, and accessories.
Materials:  SONITE Mosaic Rich Gold and Aspen Gold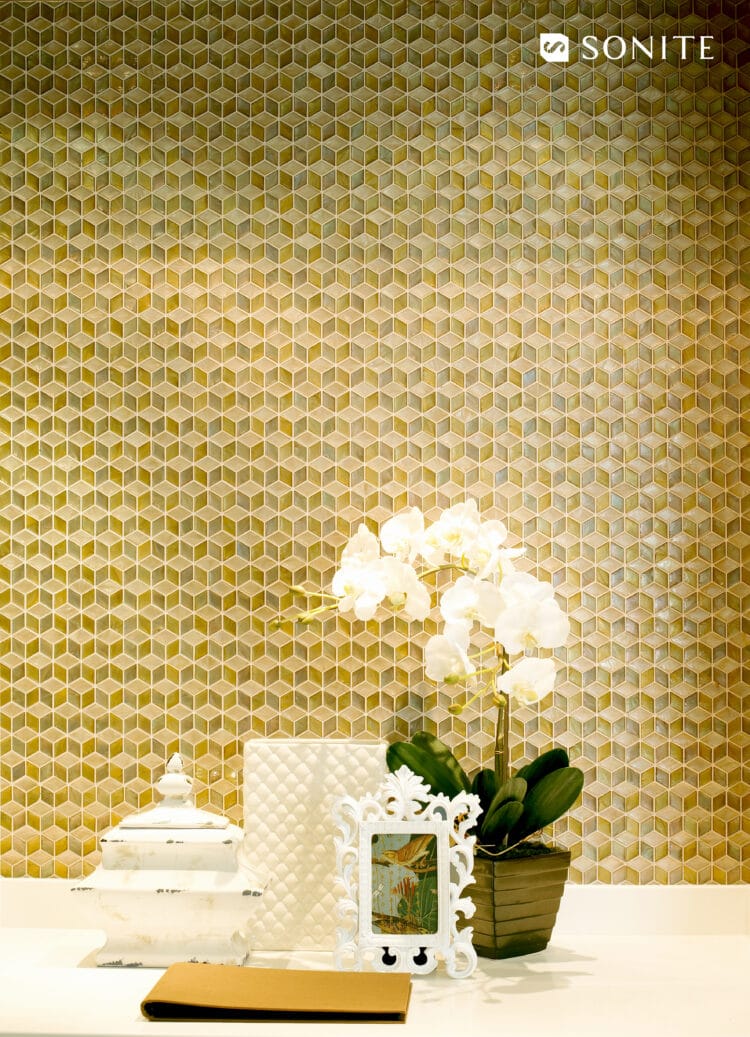 2. Blue for Boundless Peace: Blue is a calming and soothing color with a sense of refreshment. In Feng Shui, blue is believed to promote mental clarity and inner peace. Therefore, it is often used in areas where calmness and relaxation are desired, such as the bedroom, living room, or meditation room.
Materials:  SONITE Mosaic Lapis, Insignia Blue, and Atlantic Blue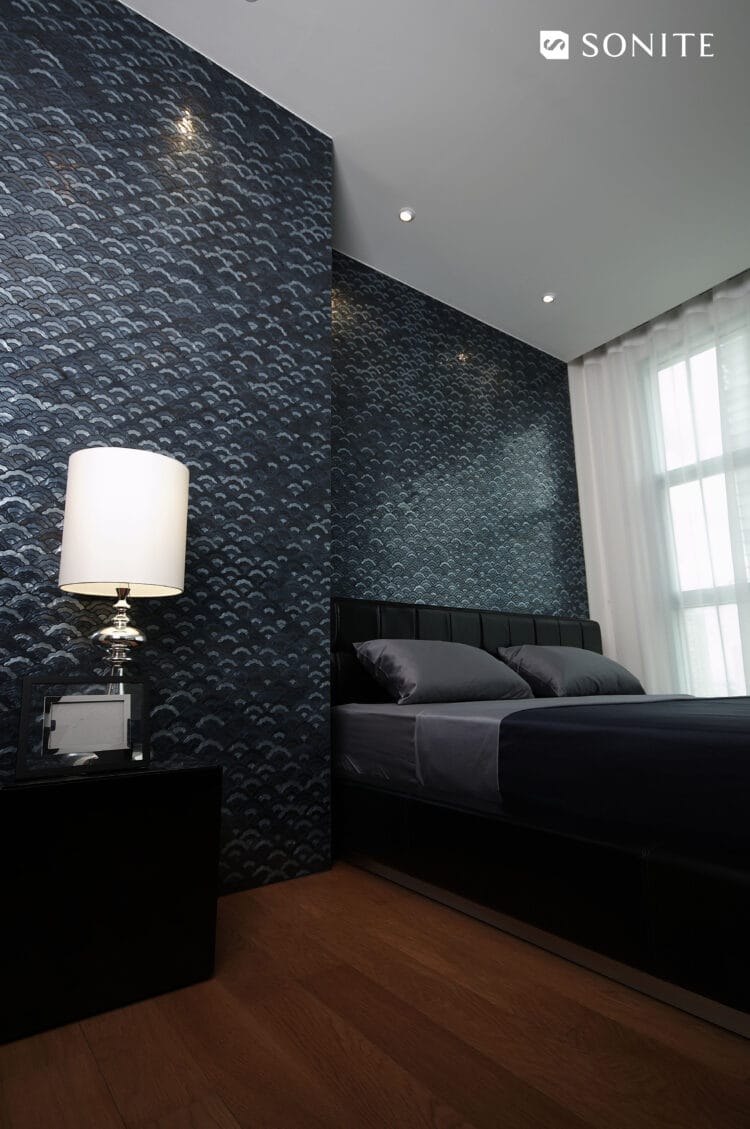 3. Green for Growth: The color green is associated with abundance and wealth, and is often used in Feng Shui cures to attract financial prosperity. It also represents growth and renewal. In design, green has a glimpse of modern natural luxury and is often used in areas of the home or office where relaxation and rejuvenation are desired. 
Materials: SONITE Mosaic Pesto, Olive Branch, and Oasis 
Whether you're refreshing a room or giving your entire space a luxurious makeover, SONITE offers a vibrant and versatile Mosaic with a wide range of colors which is available at SONITE Thailand Showroom Ladprao 80.
………………………………………………………………………………………………………………………………………………………….
ส่องเคล็ดลับแต่งบ้านด้วยสีสันแห่งฮวงจุ้ย เล่าความหมาย บอกจุดเด่น พร้อมแนะนำวัสดุแห่งพลังดีเพื่อบ้านที่ยิ่งอยู่ยิ่งงดงามและมั่งคั่ง
หลักของ 'ฮวงจุ้ย' คือการนำพลังของธาตุต่างๆ ตามธรรมชาติมาจัดสภาพแวดล้อมให้สมดุล การแต่งบ้านตามฮวงจุ้ยสามารถดึงพลังบวกและทอนพลังลบด้วยสีสัน เพราะเฉดสีที่เหมาะสมยังช่วยเสริมพลังงานดีภายในบ้าน หากคุณอยู่ระหว่างมองหาไอเดียแต่งบ้านตามฮวงจุ้ย SONITE ชวนคุณเปิดโลกแห่งสีสันกับเทคนิคแต่งบ้านสวยให้อยู่ดีมีแต่ความรุ่งเรือง
1. มงคลด้วยสีทอง: 'สีทอง' ดึงดูดความมั่งคั่งรุ่งเรืองด้วยการสร้างบรรยากาศหรูหรา สง่างาม และมีชีวิตชีวา สีนี้จึงเหมาะสำหรับห้องทำงาน สามารถใช้เป็นสีรองในห้องนั่งเล่น หรือแต่งห้องรับแขกก็ได้เช่นกัน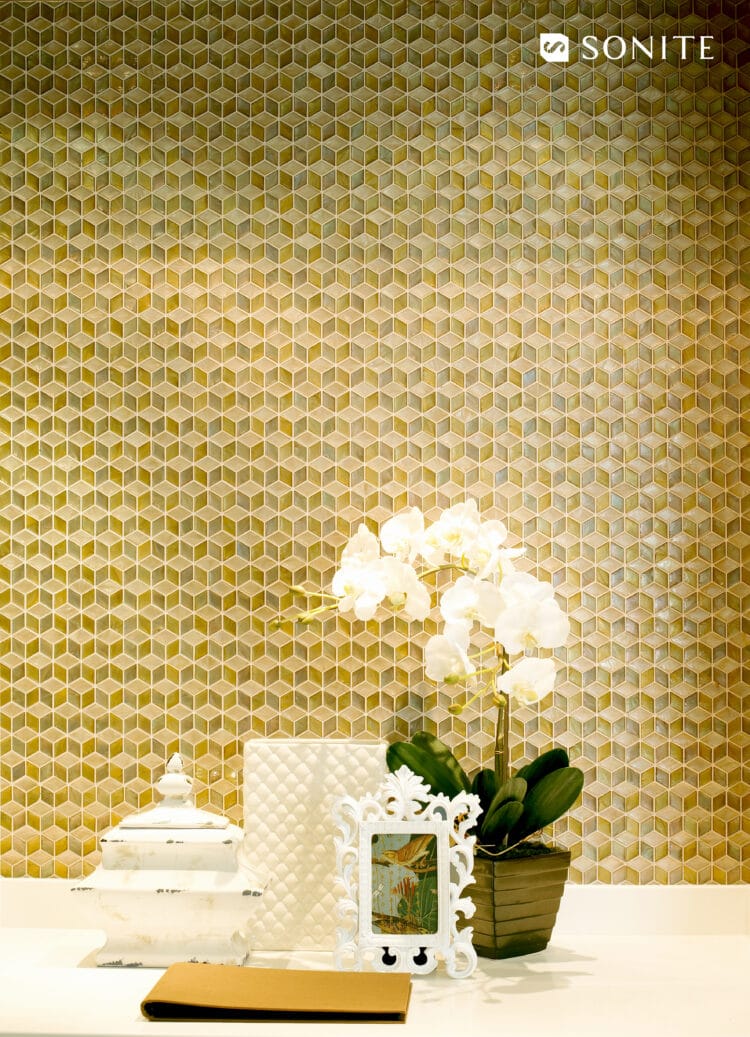 2. มั่งคั่งด้วยสีน้ำเงิน: สีโทนฟ้าน้ำเงินให้ความรู้สึกสดชื่น สงบ และบริสุทธิ์ ผืนน้ำกว้างใหญ่แทนความอุดมสมบูรณ์มั่งคั่ง สีฟ้า-น้ำเงินเหมาะสำหรับพื้นที่ที่ต้องการสะท้อนตัวตนอย่างห้องรับแขก หรือพื้นที่แห่งการพักผ่อนอย่างห้องน้ำ ห้องครัว และห้องนอน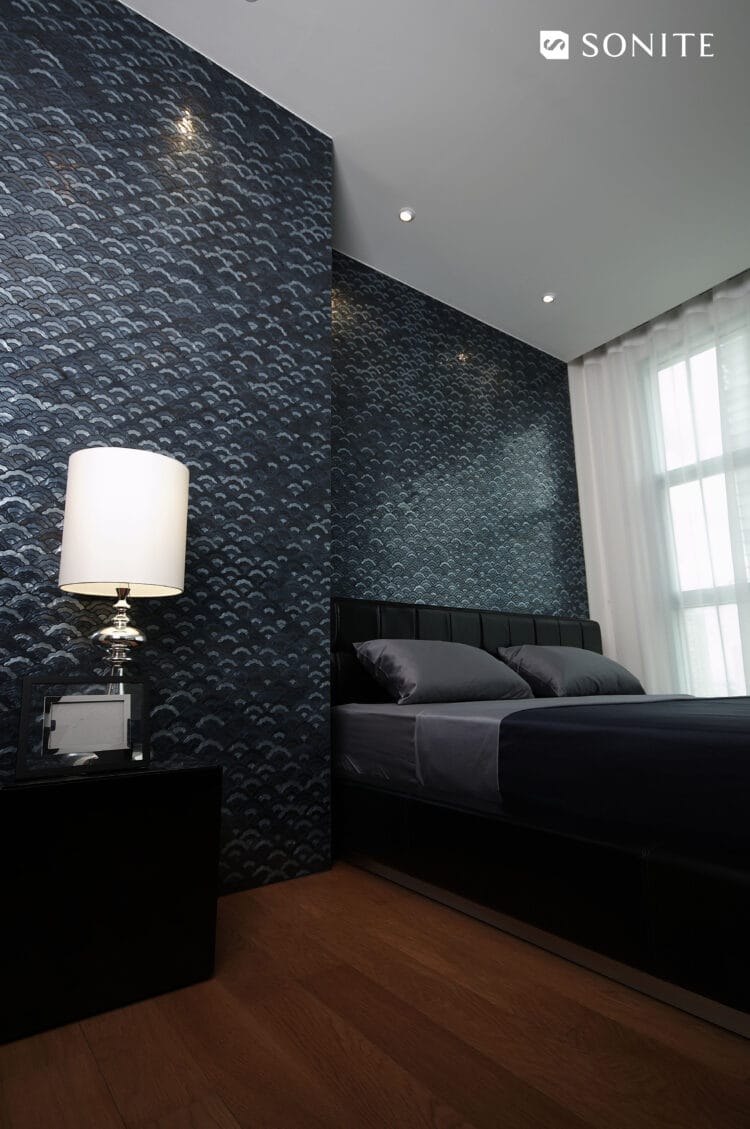 3. เจริญรุ่งเรืองด้วยสีเขียว: สีเขียวแทนความอุดมสมบูรณ์ เจริญเติบโตงอกงาม และเป็นเฉดสีที่เป็นธรรมชาติที่สุด สีนี้จึงคลายเครียดได้เป็นอย่างดี สามารถแทรกความหรูหราได้จึงเหมาะกับทุกพื้นที่ในบ้าน
ถึงเวลาปรับบ้านให้ความหรูหราและมั่งคั่ง SONITE Mosaic ตอบทุกโจทย์ที่คุณต้องการด้วยสีสันตามฮวงจุ้ย   และกระบวนการผลิตที่คำนึงถึงธรรมชาติและผู้คนรอบข้าง สามารถชมคอลเล็กชันโมเสกและปรึกษาการออกแบบลายเฉพาะคุณได้ที่ SONITE Thailand Showroom ลาดพร้าว 80
……………………………………………………………………………………………………………
For more information, please visit
Instagram: Sonitesurfaces
Facebook: Sonite Surfaces
Line: @official_sonite
Store: Chatuchak Weekend Market Section 13 Soi 11
Showroom: Ladprao 80 section 22
Tel : (+66)89-813-1733
Email: [email protected]
Website: https://sonitesurfaces.com/