Through Thick and Thin: Inspire Your Design Dreams with Mosaic Art Décor Made Possible by 0.2 mm. extra thin SONITE Mosaic.
SONITE Mosaic stands out in the 0.2 mm. extra thin polymer sheet with functions and aesthetics that are suitable for any unique decorative purposes.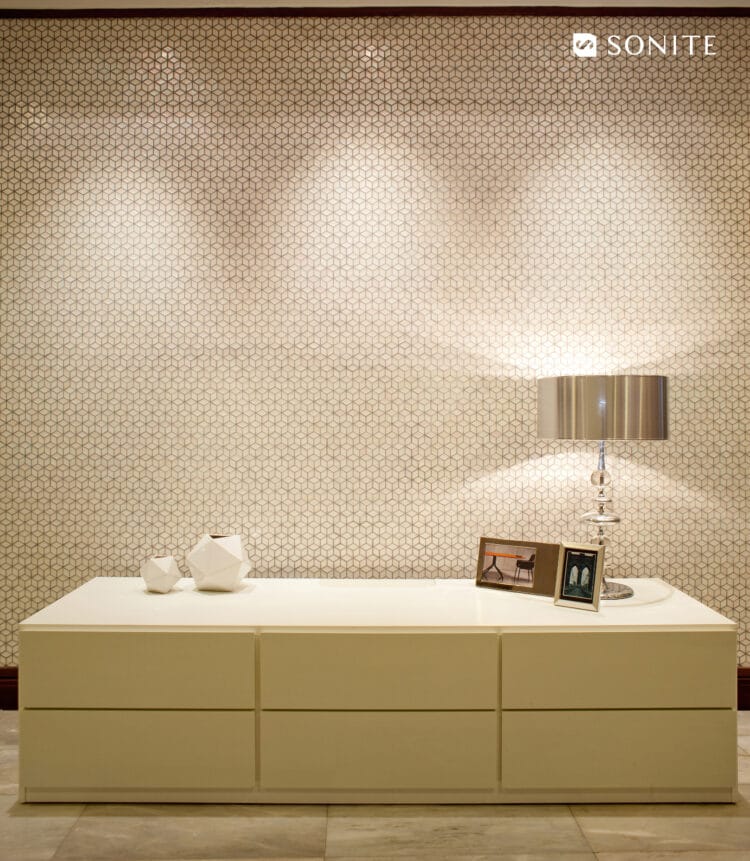 "Don't judge a book by its cover" reminds us not to make a judgment from appearance. So does "SONITE Mosaic". Our mosaic is functional, visually appealing, and durable regardless of its size and thickness.
SONITE has developed an in-house innovation that enables us to create our distinctive polymer mosaic with 0.2 mm extra thin. The thin sheet is easy to bend and cut in order to fit any shape and size, especially in curved areas. Its light weight allows it to be used in spaces with weight limitations such as elevators, air conditioners, and columns. Despite its thinness, our innovative mosaic retains its durable and versatile quality. It is resistant to acid, heat, and moisture, making it suitable for use in cladding, paneling, ceiling, flooring, or any other decorative application in a space. The polymer mosaic also offers unique aesthetics that cannot be achieved with traditional materials.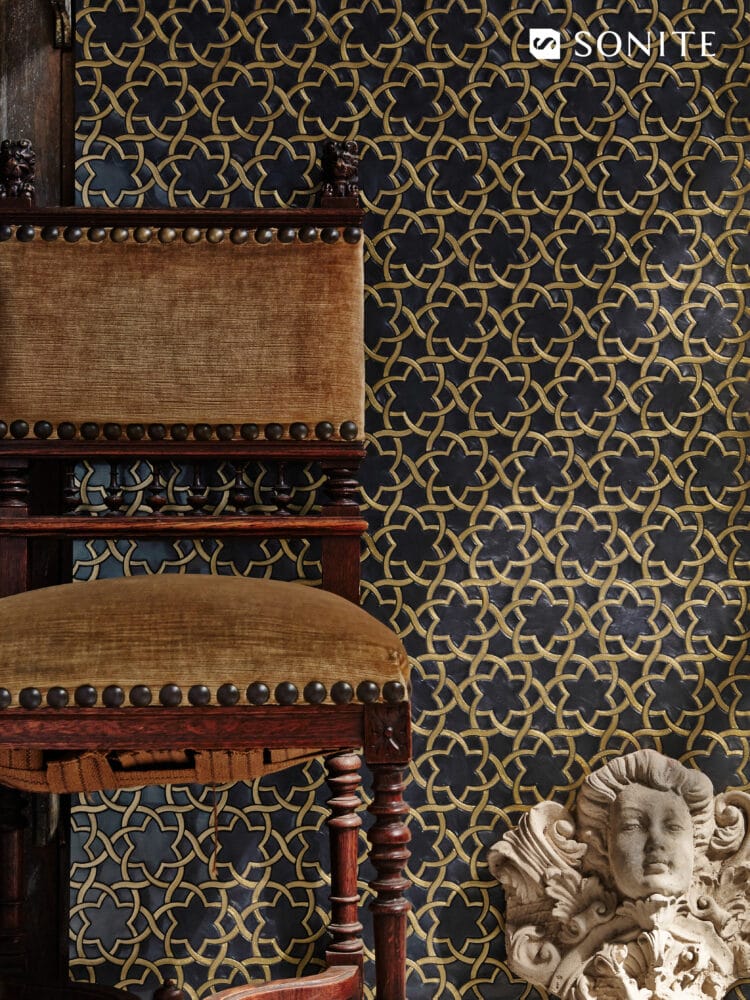 Recognizing the endless possibilities in design, SONITE offers a wide range of colors and patterns of our polymer mosaic. Get in touch and check out our innovative polymer mosaic collections at SONITE Thailand Showroom Ladprao 80. Custom-made mosaics can be designed upon request.
………………………………………………………………………………………………………………………………………………………….
อย่าตัดสินความแข็งแรงที่ความบาง SONITE Mosaic นวัตกรรมโมเสกโพลิเมอร์ที่บางเบาเพียง 2 มม.หมดกังวลเรื่องน้ำหนัก เข้าโค้งสวย เรียบเนียน เปี่ยมด้วยสุนทรียะศิลป์สุดหรู
"Don't judge a book by its cover." สำนวนว่าอย่าตัดสินหนังสือเพียงปกที่ห่อหุ้ม เช่นเดียวกับวัสดุตกแต่งสถาปัตยกรรมอย่างโมเสกที่แข็งแกร่งและงดงามเกินความบางเฉียบที่ตาเห็น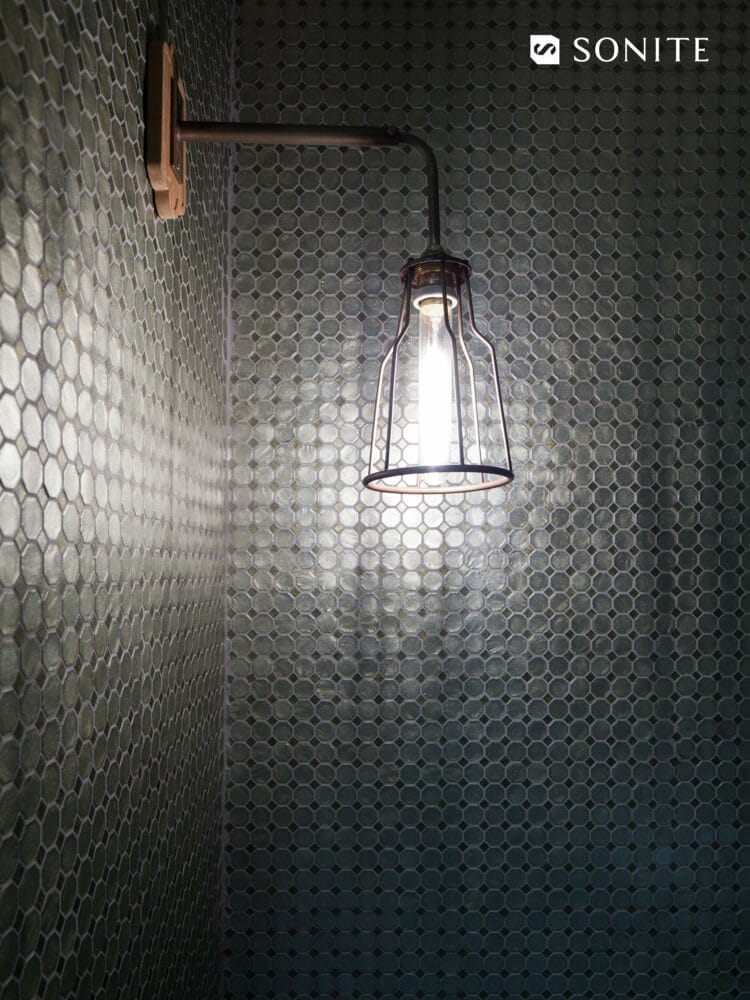 SONITE พัฒนานวัตกรรมการผลิตโมเสกให้เป็น 'โมเสกโพลิเมอร์' วัสดุที่โดดเด่นด้วยความบางเฉียบเพียง 2 มิลลิเมตร ครบด้วยคุณสมบัติทนทานทั้งกรด-ด่าง ความร้อน ความชื้น สามารถใช้ตกแต่งได้ทั้งพื้น ผนัง และพื้นที่ที่ต้องการ พร้อมผสานสัมผัส สีสัน รวมถึงลวดลายลายให้มีสุนทรียะหรูหราประณีตในแบบที่วัสดุดั้งเดิมไม่สามารถทำได้ เหมาะสำหรับตกแต่งพื้นที่ที่ต้องการวัสดุตกแต่งน้ำหนักเบาเช่น ลิฟต์โดยสาร เครื่องปรับอากาศ หรือเสา โดยแผ่นบางทำให้ใช้งานง่าย เข้าโค้งสวย เติมมุมและต่อขอบได้เรียบเนียนกลมกลืน ตลอดจนสามารถปูทับกระเบื้องเก่าโดยที่ไม่ต้องรื้อออก
ด้วยพลังสร้างสรรค์ที่ไม่รู้จบ SONITE Mosaic ออกแบบสีสันและลวดลายของโมเสกในหลากสไตล์ สีคมชัดไม่ซีดจาง สามารถชมคอลเล็กชันชิ้นงานและปรึกษาการออกแบบลวดลายตามต้องการได้ที่ SONITE Thailand Showroom ลาดพร้าว 80
……………………………………………………………………………………………………………
For more information, please visit
Instagram: Sonitesurfaces
Facebook: Sonite Surfaces
Line: @official_sonite
Store: Chatuchak Weekend Market Section 13 Soi 11
Showroom: Ladprao 80 section 22
Tel : (+66)89-813-1733
Email: [email protected]
Website: https://sonitesurfaces.com/