Slow Hand Design Exhibition 2023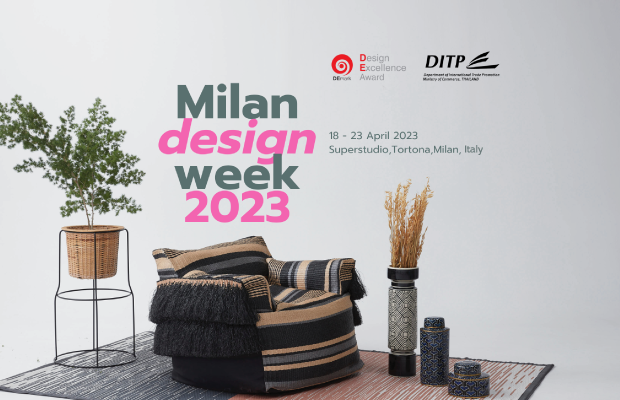 ค้นพบอนาคตของการออกแบบที่ยั่งยืนในนิทรรศการ Slow Hand Design 2023 การแสดงที่หรูหราและเป็นมิตรกับสิ่งแวดล้อมของนักออกแบบชาวไทยที่งาน Milan Design Week 2023 จัดแสดงโดย กรรมส่งเสริมการค้าระหว่างประเทศ (DITP) เพื่อดําเนินการส่งเสริมการสร้างภาพลักษณ์ประเทศไทยในด้านการค้าและบริการให้เป็นที่รู้จักและยอมรับในระดับสากลทั้งการสร้างความเชื่อมั่นในภาพลักษณ์ทางการค้าของประเทศ ภาพลักษณ์ของอุตสาหกรรม  และภาพลักษณ์ของแบรนด์สินค้าระดับบริษัท  ผ่านโครงการสร้างแบรนด์ประเทศไทยในด้านการค้าและบริการสู่ยุค Thailand 4.0
นิทรรศการในปีนี้จัดขึ้นภายใต้แนวคิด Uncertainty = Certainty โดยมีอาจารย์ เอกรัตน์ วงษ์จริต เป็น Curator นําเสนอการออกเเบบของสินค้าที่ได้รับรางวัล DEmark เเละพัฒนาสินค้าไปสู่การออกเเบบที่เป็นมิตรต่อสิ่งเเวดล้อม ตอบโจทย์กระเเสโลกอย่างยั่งยืน
หนึ่งในนิทรรศการที่ห้ามพลาดคือผนังผักตบชวาของ Sonite ซึ่งทำจากวัชพืชที่รีไซเคิลแล้วใช้เป็นเครื่องประดับตกแต่งในขณะที่ลดเสียงสะท้อน นอกจากนี้ นิทรรศการยังส่งเสริมธุรกิจสร้างสรรค์ของไทยที่ทำงานภายใต้โมเดล Bio-Circular-Green ซึ่งเป็นวิสัยทัศน์ในการเปลี่ยนแปลงประเทศไทยให้เป็นเศรษฐกิจที่ขับเคลื่อนด้วยนวัตกรรม ซึ่งใช้ประโยชน์จากจุดแข็งในด้านความหลากหลายทางชีวภาพ ความหลากหลายทางวัฒนธรรม เทคโนโลยี และนวัตกรรมมาโชว์ในงาน
สัมผัสความหรูหราและมีชื่อเสียงในการออกแบบที่เป็นมิตรกับสิ่งแวดล้อมตั้งแต่วันที่ 18-23 เมษายน 2023 ที่ SuperStudio Più ในย่าน Tortona Design District ของมิลาน
พบกับสุดยอดผลงานสร้างสรรค์ของไทย สร้างแรงบันดาลใจสู่อนาคตที่ยั่งยืนสำหรับทุกคน
Discover the future of sustainable design at the Slow Hand Design 2023 exhibition, eco-friendly showcase by Thai designers at Milan Design Week 2023, hosted by the Directorate of International Trade Promotion (DITP). Promote the image of Thailand in terms of trade and services to be known and accepted internationally, both in building confidence in the country's commercial image, industry image, and the image of the company's product brand through the project to build a Thai brand in trade and service towards the Thailand 4.0 era.
This year's exhibition is organized under the concept of Uncertainty = Certainty, with Mr. Ekarat Wongcharit as a curator, presenting the design of products that have received the DEmark award and developing the products into designs that Friendly to the environment responding to the global trend in a sustainable way.
One of the must-see exhibits is Sonite's water hyacinth wall, which is made from recycled weeds that can be used as decorative ornaments while reducing resonance. Bio-Circular-Green This is the vision to transform Thailand into an innovation-driven economy. which takes advantage of its strengths in biodiversity, cultural diversity, technology, and innovation to showcase
Experience the luxury and famous eco-friendly design from 18-23 April 2023 at SuperStudio Più in Milan's Tortona Design District.
Join our showcase, the best of Thai creativity, inspiring a sustainable future for all.
Thank you DITP and DesignWanted for the reference picture.
https://drive.ditp.go.th/th-th
……………………………………………………………………………………………………………
สอบถามข้อมูลเพิ่มเติมหรือเยี่ยมชมโชว์รูมได้ที่
253/43 Latphrao 80 Sec 22, ถ. ลาดพร้าว เขตวังทองหลาง กรุงเทพมหานคร 10310
(ทุกวันทำการ เวลา 08.30-17.30 น.)
Tel: (+66) 89-183-1733
Line: @official_sonite
Email: [email protected]
Website: http://sonitesurfaces.com